Bel Canto Music Academy ONLINE MUSIC LESSONS
At Bel Canto Music Academy, you will be able to attend online music lessons via Zoom. Schedule your music lesson TODAY!
WHY CHOOSE BEL CANTO MUSIC ACADEMY? – The Top Ten Reasons to Choose Us
1. Qualified Faculty – Musician Owned and Operated
Bel Canto Academy is musician owned and operated so you know you are getting the best teaching and performing artists in the area. Founder and director Sladjana Saric has assembled a team of professional musicians and teachers who share her passion for music and music education.
2. Both Private and Group Lessons Available
Bel Canto Academy offers group lessons strings and voice for children over age 6 and private lessons in all instruments for both adults and children.
Private lessons provide one-on-one instruction with our esteemed faculty who will tailor their approach to the individual, providing consistent and helpful feedback in line with the student's goals.
In group lessons, students will learn about basic melodic intervals, matching pitch, and learning dynamics. Learning and performing together enables students to experience the joy of singing together as well as individually, enhancing the development of the whole child.
Prepare your young vocalist to light up the stage with Bel Canto Voices! This children's choir is a unique and unparalleled experience for children ages 6-10. Exploring a variety of genres, students will learn about basic melodic intervals, matching pitch, and learning dynamics. Students will engage the whole body to create a beautiful sound with an entertaining presentation in a group setting. Enrollment is determined by audition.
3. Performance Opportunities
Regular recitals are part of our curriculum. At Bel Canto Music Academy, ensemble and collaborative performance is part of our curriculum for all instruments as well as voice.
Every parent wants to see how their child is progressing, and every music student wants to feel that accomplishment as well!  Student recitals and concert performances are fun, boost confidence, encourage practice, and give students a chance to show off their skills!
4. Special Needs and Early Childhood Music Education
No one should feel that they cannot explore the pleasure of making music – our faculty are experienced in working with students of all ages and needs. Contact us directly for a consultation and more information.
Bel Canto Music Academy offers early childhood interactive music classes from newborn to 6 years (Mini Musicians) and 6 to 10 years of age (Young Musicians) as well as a children's choir (Bel Canto Voices).  See our Programs for Children page for more information!
5. Suzuki Lessons in Piano and Violin
More than fifty years ago, Japanese violinist Shinichi Suzuki began to apply the basic principles of language acquisition to the learning of music, and called his method the mother-tongue approach. Just as children learn their native language with ease, he believed that children could learn to play an instrument in a similar way. The ideas of parent responsibility, loving encouragement, constant repetition, etc., are some of the special features of the Suzuki approach.
6. Convenient Location
Bel Canto Music Academy is the only music school in Burr Ridge, Illinois, making it a convenient location for students living and working in the western suburbs of Chicago.
Bel Canto Music Academy
92 Burr Ridge Parkway
Burr Ridge, Illinois 60527
7. Comfortable Facilities with Parent's Lounge
Our facilities are clean and fully furnished, with private studio spaces and a comfortable lounge/waiting area.
Private studios are fully furnished with pianos, chairs, and music stands – everything you need for a productive experience!
Parents are also welcome to sit in lessons anytime they wish.
8. Open 6 days a week for today's busy families
Bel Canto Music Academy provides music instruction six days a week to accommodate your busy schedule.
Monday-Friday   9am-9pm
Saturday             9am-6pm
Sunday               Closed
9. Month to Month Lessons at Reasonable Rates
Music lessons at Bel Canto Academy are billed monthly with no semester commitment. An overview of our fees may be found on our Tuition Page.
10. Building A Community
At Bel Canto Music Academy, we believe we doing more than music instruction – we are creating a vibrant community.  Student and parents will receive regular newsletters highlighting school events and celebrating student achievements.
Our student performances are a great opportunity to connect with others who are passionate about music and learning. Community is a fundamental to our experience of music—uniting people, forming bonds, and connecting cultures.
Not only is music good for your soul, it's good for your brain! Studies have shown that learning to create music has a positive effect on the social and emotional development of children, increasing empathy, cooperation, and emotional regulation.  Music study leads to better and more creative problem solving and strengthens memory power.
Even if you've never sung or played an instrument before, music instruction gives you a great "brain workout", using higher cognitive functions and making connections on both analytical and emotional levels.
No one can deny the joy and confidence that comes with learning to play an instrument or to sing!
Attributes of Bel canto singing includes an exact control of the intensity of vocal tone and a demand for vocal agility and clear articulation of notes and enunciation of text.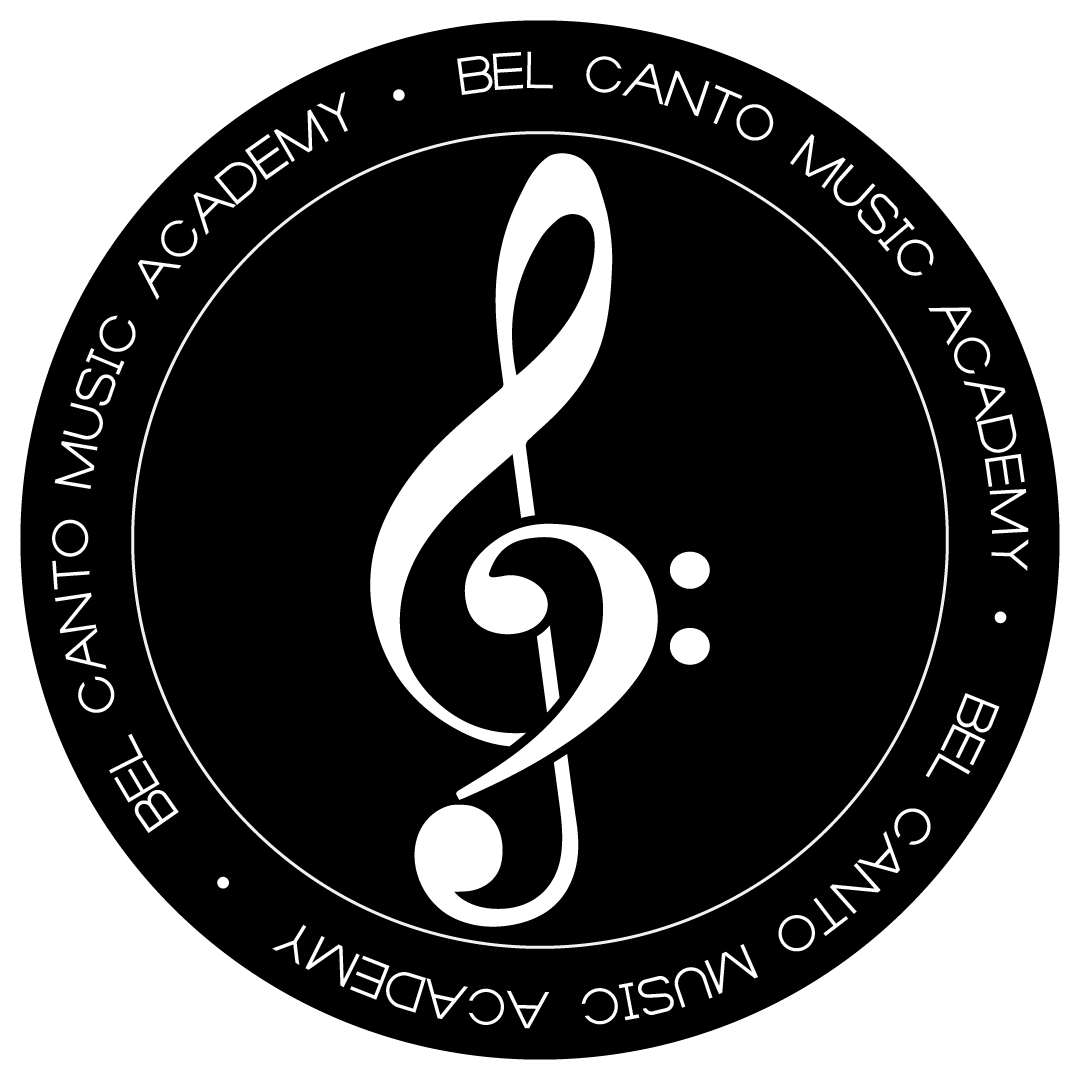 Composers of what many musicologists call the "Bel Canto Period" in opera include Gioachino Rossini, Vicenzo Bellini, and Gaetano Donizetti.  These composers are well known for the melodic elements in their music paired with impressive floridity, or coloratura.  Today, some of the world's most frequently performed operas, such as Rossini's The Barber of Seville and Donizetti's Lucia di Lammermoor, are from the bel canto era.
While the concept of "bel canto" came from the opera house, its emphasis on clarity, healthful ease of production promoting flexibility and stamina, and strong communication of meaning is applicable to all music and all music styles.
At Bel Canto Music Academy, dedication to these musical values underscores our teaching, no matter what the instrument or musical style.
Bel Canto Music Academy offers exceptional music lessons to students of all ages and levels in a fun, supportive environment led by qualified and experienced professionals.
Beginning students can expect to master core skills like proper technique and reading music, while intermediate and advanced students can expect growth in mastering repertoire, developing overall musicianship and proficiency, and confidence.
o Piano lessons
o Voice lessons
o Violin lessons
o Viola lessons
o Cello lessons
o Guitar lessons
o Drums lessons
o Flute lessons
o Oboe lessons
o English horn lessons
o Clarinet lessons
o Saxophone lessons
o Bassoon lessons
o Children Lessons
o Bel Canto Voices
Mini Musicians (Newborn to 6 years old)
Young Musicians (6 years to 10 years)
Bel Canto Voices – Group Voice Lessons for Children Aged 6-10
Suzuki Lessons
Music for Children with Special Needs